Week 8: The Hawkesbury site
Monday, 5 May 2014
Twenty five years ago this week Hawkesbury campus at Richmond was the University of Western Sydney Hawkesbury. The construction of the Hawkesbury site began in 1891 when the land was cleared, by hand, by the first students for the establishment of the Hawkesbury Agricultural College. These students then went on to construct to the first buildings. Hawkesbury campus currently occupies about 1373 hectares and has around 2 500 students.
Most of what is now Richmond was occupied by the Darug people prior to European arrival. Europeans explored the area as early as 1789 and originally called the place "Richmond Hill". Richmond was the third European settlement in Australia after Sydney and Parramatta. Richmond was also one of the five "Macquarie towns" (Castlereagh, Pitt Town, Richmond, Wilberforce and Windsor) established on higher ground from December 1810 after severe floods in 1809.

From the archives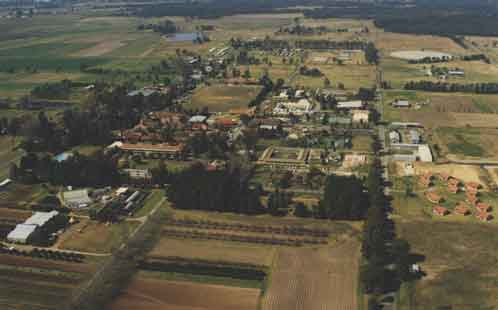 Image gallery
From the Archives this week, we have:
In the above gallery, an aerial photograph of the main campus looking South-West from 1986.
A photograph of Mr Sydney Smith turning first furrow in Hawkesbury Agricultural College (HAC) in 1891.
A photograph of Mrs JJ McCue (wife of Mr James J McCue Poultry and Bee Manager Hawkesbury Agricultural College 1897-1901) - standing outside a residence holding a golf iron with two golf balls at her feet Hawkesbury Agricultural College (HAC) c.1897.
A photograph of a horse-drawn buggy c.1890s.
The Key to the City of Hawkesbury - Commemorating 100 years of Hawkesbury Agricultural College, 1991.
Centenary of Hawkesbury Agricultural College (1991) - Australian & New Zealand Army Corps [ANZAC] Day Dawn Service 25 Apr 1991 (PDF, 763.38 KB).(opens in a new window)

Did you know?
That the first 9 hole golf course constructed in the Richmond area was built at the Hawkesbury Agricultural College in 1897 and was followed by another 9 holes in 1898.