Landmark event for Men's Health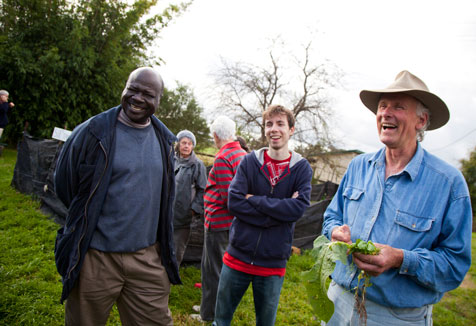 In an Australian first, health service providers will be trained to directly address the reasons why fewer men and boys make use of health services, in an initiative men's health researchers from the University of Western Sydney have hailed as long overdue.
The Engaging Men seminar, to be held in Newcastle from March 14 and 15, will see health service providers trained by leading experts and researchers in a seminar that equips them to effectively engage men and boys in programs that build male health and wellbeing.
"Current messages to men about health almost invariably focus on what they are doing wrong, such as eating too much, not exercising and keeping their feelings inside," says Professor John Macdonald from the UWS Men's Health Information and Resource Centre.
"If we are serious about engaging men and boys in programs and campaigns to improve their health, we need to look at how they each live their lives as individuals, because the current one size fits all messages aren't good enough."
Professor Macdonald says the seminar is a landmark event as it's the first time in Australia that health services have been provided with specific training to help engage with men and boys.
"The current situation is that there are lots of people trying to 'get more blokes involved' and being disappointed when numbers are low or they don't come back," he says.
"The conclusion is often that 'those blokes just don't care' or 'dads aren't interested in their kids' and all those old stereotypes, whereas what health services really need is help to create service environments that are relevant and welcoming for men, to demonstrate they are ready for men to be part of the service by, for example, being open after 5pm."
The UWS Men's Health Information and Resource Centre will present two sessions at the event:
Anthony Brown will present a session on uncovering the real reasons why many older men stay away from Home and Community Care (HACC) services. Governments are spending millions on Home and Community Care to really keep older people independent and out of the hospital system and nursing homes but many HACC services are adopting practices that, by accident and not design, work better for women. This mistakenly signals to men that the services are not for them.

David Thompson will present a seminar on how health services can use the increasingly popular Men's Health Week and other events as a way of proactively and deliberately reaching out to men and boys. Men's Health Week encourages health services to focus on methods that work for local men and boys that create settings where conversations about health become more natural.
The UWS Men's Health Information and Resource Centre, within the School of Science and Health, designs, develops and supports research and projects which contribute to the enhancement of the health and well-being of men and boys.
The seminar is presented by the Men's Health Forum of New South Wales, the peak body for male health in NSW.
For interviews please contact the UWS Media Unit.