A HDR Student Abroad
A HDR student's account of spending one week at a prestigious conference in London.
---
By George (Kev) Dertadian
5 June 2013
In May, the Institute for Culture and Society sponsored my attendance at Goldsmiths University of London's Annual Graduates Festival. Being a cultural researcher from Sydney, Goldsmiths' impressive reputation was a cause for both genuine excitement and simmering anxiety.
Like much of Europe, the campus is a subtle mix of distinctly historical and markedly contemporary architecture. The age of some of the buildings by no means insults the intellectual atmosphere. The majority of the buildings that make up the campus feel mature, somehow more secure as a place of learning. And the elaborate new buildings, so often empty of history, are made part of the whole. Goldsmiths' flagship building is a particularly impressive sight that stands out from the rough and tumble atmosphere of the working-class suburb in which the campus is located.
Sky Hugman, a fellow HDR candidate at ICS, and myself stayed in the student accommodation on campus. I found myself fondly reminiscing my Undergraduate years, surrounded by the endless chatter about distinctly first-world problems (like how his iPhone cord isn't long enough to reach her bed-side table!!). I also found myself up all night working on my paper, making small changes inspired by the day's events.
When it was time to finally give the paper all went well, with only a few more 'um's' than I had hoped for. After three and half years of researching the non-medical use of pain medications, some inspiration was in order, and the panel certainly inspired some great discussion. Best of all however was Professor Les Back' workshop, in which he discussed his book 'The Art of Listening', a classic in sociological and cultural research. A pointed reminder about how my work, and that of others, provides the unique opportunity to listen to those who are not often listened to.
We became somewhat famous for the week we attended the Festival, with the chair of almost all of the sessions making sure to introduce the 'visiting scholars' all the way from the Institute for Culture & Society at the University of Western Sydney. Of course this was not your run-of-mill conference. Student papers were followed by musical performances, poetry readings and master classes on a range of topics. It quickly became clear that these were common occurrences at Goldsmiths, always something to do and something to see. Interdisciplinary was not a goal this college was striving to achieve, they were living it (recently appointing Roger Burrows to manage interdisciplinary affairs throughout Goldsmiths).
When the week was up, I was sad to leave but eager to put to good use the inspiration Goldsmiths had provided. There is nothing like a trip to a world-renowned institution to motivate you in the final stages of your PhD journey at a research institute that has a renowned reputation of its own.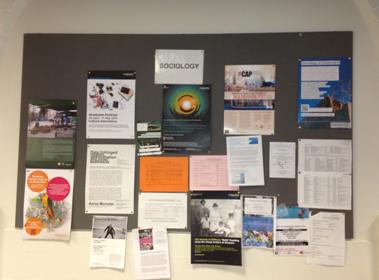 <!-noindex->