Home
We are the International Centre for Neuromorphic Systems.
We study and mimic biological brains and sensory organs to engineer compact, robust, and efficient artificial neural networks that out-perform classical computers and conventional sensors.
We design and build high-performance, energy-efficient sensors and processors, including algorithms and customised hardware, which are ideal for distributed, mobile, and autonomous applications in challenging and remote environments.
We also find answers to big questions like How does the brain work? and solutions for neurological damage or disease.
We're training the next generation of neuromorphic engineers to meet growing demand in this increasingly important field.



We welcome your interest in our research and impact. To learn more, please explore our website or get in touch.
Research Streams
Video Highlights
Dr Paul Rymer is searching for genetic features that contribute to trees' adaptation to climate change, so that they can be taken into account for forest management...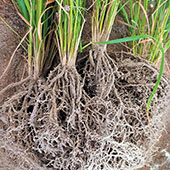 Prof Brajesh Singh is developing microbial engineering tools that could sustainably increase agricultural output to produce food for a rapidly increasing population....

<!-noindex->