Home
We are the International Centre for Neuromorphic Systems
We study and mimic biological brains and sensory organs to engineer compact, robust, and efficient artificial neural networks that out-perform classical computers and conventional sensors.
We design and build high-performance, energy-efficient sensors and processors, including algorithms and customised hardware, which are ideal for distributed, mobile, and autonomous applications in challenging and remote environments.
We also find answers to big questions like How does the brain work? and solutions for neurological damage or disease.
We're training the next generation of neuromorphic engineers to meet growing demand in this increasingly important field.



We welcome your interest in our research and impact. To learn more, please explore our website or get in touch.
MASTER OF NEUROMORPHIC ENGINEERING
A world first program!
Neuromorphic Perception Solutions

The International Centre for Neuromorphic Systems (ICNS) is a world leader in the development of Neuromorphic Perception Solutions.

Inspired by biology, these ground-breaking solutions harness the power of the centre's pioneering research on neuromorphic sensors, algorithms and processing hardware, to solve problems currently impeding technological innovation.

The Neuromorphic Engineering approach is sustainable and reliable, using low-power and high-speed systems at the edge to provide a solution to the data deluge problem currently limiting existing technology.

Neuromorphic Perception Solutions incorporate smart sensors, AI and digital infrastructure design and development, targeting areas such as Space and Aviation, smart manufacturing, built environment, automotive, agriculture and medical technology.

ICNS is already working with multinational firms such as Intel and Microsoft on the real-world application of these solutions and is actively seeking commercial partners for further collaborations. Such partnerships will help create a globally unique economic hub in Western Sydney and boost Australia's regional economic sustainability and development.

JOIN US IN SHAPING THE FUTURE AND DELIVERING SOLUTIONS

We are seeking Expressions of Interest in how you wish to partner with us, so together we can fully realise the potential of these innovations and create globally significant commercial outcomes.
The International Centre for Neuromorphic Systems (ICNS) are excited to announce they have teamed up with Intel to build a world-first brain-scale neuromorphic computer, using reconfigurable hardware and open-source software, to learn more about how the brain works and how to build better AI.

For more information click here

This is just one of the many projects @ICNS are working on to commercialise and expand their Neuromorphic capabilities.

For more details contact ICNS here
ICNS - Moon to Mars Initiative Grant
Western Sydney University's International Centre for Neuromorphic Systems (ICNS) have been recognised across the Defence Connect network for successfully securing grant funding from the Australian Government's Moon to Mars initiative. This funding will help develop new Australian technologies for potential use on NASA's Moon to Mars mission.
Congratulations to Professor André van Schaik, Associate Professor Greg Cohen and the entire ICNS team.
See link for more informationThales Australia and Western Sydney University win space research funding - Defence Connect
Research Streams
Video Highlights
Dr Paul Rymer is searching for genetic features that contribute to trees' adaptation to climate change, so that they can be taken into account for forest management...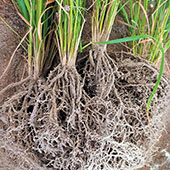 Prof Brajesh Singh is developing microbial engineering tools that could sustainably increase agricultural output to produce food for a rapidly increasing population....

<!-noindex->