Home
Latest News
Sydney calligrapher Mr David Liu presented three pieces of calligraphy on 17 October to congratulate its opening.
President of Xiamen University Professor Chongshi Zhu led a delegation to visit the Institute on 17 October as part of their visit to Western Sydney University.
Western Sydney University hosted an important diplomatic visit to its Parramatta campus on 29 September 2016.
Information
Dr Paul Rymer is searching for genetic features that contribute to trees' adaptation to climate change, so that they can be taken into account for forest management...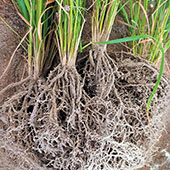 Prof Brajesh Singh is developing microbial engineering tools that could sustainably increase agricultural output to produce food for a rapidly increasing population....