Thousands graduate in Autumn ceremonies
The University of Western Sydney's Parramatta campus will be awash with colour and celebration in April, as years of study and hard work culminate in graduation season for thousands of UWS students.
Over 4,400 students will graduate across 22 ceremonies, being held from Saturday 11 April to Friday 17 April.
Degrees will be conferred in a wide range of disciplines, including business, social sciences, psychology, computing, engineering, mathematics, education, law, humanities, communication arts, science, health, and nursing and midwifery.
37 prestigious University Medals will be presented to students who achieved consistently high results throughout their studies.
As part of graduation, there will be honorary doctorates awarded to three outstanding Australians: Archibald Prize winner and UWS graduate Ben Quilty; Sydney Morning Herald columnist and leading author Peter FitzSimons; and business leader and former CEO of Sydney Water, Dr Kerry Schott.
Members of the community will also be recognised, with UWS Community Awards being presented to recipients for contributions to the Greater Western Sydney region.
UWS graduands and their guests will have the opportunity to hear from a range of distinguished guest speakers in April.
Ceremony 1, Saturday 11 April 2015 9:30am: Deborah Kent, Director, Integra Financial Services
Deborah Kent is the founder and owner of Integra Financial Services and National President for the Association of Financial Advisers (AFA). Deborah has been in the Financial Planning Industry for the past 25 years, giving advice to clients and guiding them on their financial pathway to meet their goals.
Deborah is very passionate about the work she does. She enjoys dealing with clients to create the strategy and see the outcome of working together.
Deborah spent 16 years working with the Financial Planning Association (FPA) on various committees including the Sydney Chapter, the National Education committee, and chair of the CPD committee.
She recently started working with the AFA as its NSW State Director and Treasurer, and is also the National Chair of AFA Inspire, connecting women in the financial industry. Her key role with the AFA is to assist women in stepping up and achieving more gender balance in our financial services sector.
Ceremony 2, Saturday 11 April 2015 12:00noon: Adjunct Professor Glen Sanford, Sydney Graduate School of Management, University of Western Sydney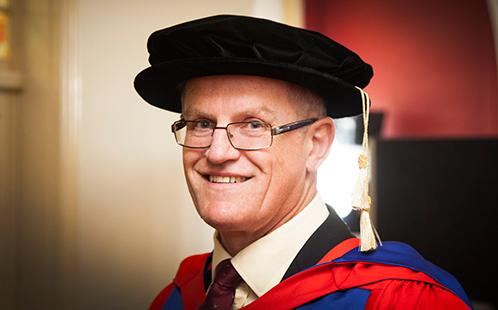 Glen Sanford was an Audit Partner at Deloitte Touche Tohmatsu until he retired in 2014. He was recently appointed an Adjunct Professor in the UWS School of Business and a member of the External Advisory Committee for the school's undergraduate programs.
Glen has made an extraordinary contribution to the University of Western Sydney, which began when he was appointed Chair of the Audit and Risk Management Committee in 1997, holding the position until 2010. He was then appointed Chair of the new Finance and Investment Committee from 2011 to 2013. At the same time, he also became a member of the Strategy and Planning Committee.
Glen served as a member of the UWS Board of Trustees from 2007 and he was elected Deputy Chancellor of UWS from 2010 until December 2013. The University was pleased to award Glen an Honorary Doctorate of Letters in 2014 for his service to the University.
Ceremony 3, Saturday 11 April 2015 2:30pm: Gina Field, Managing Director, Nepean Regional Security
Gina Field commenced work as a security officer at the age of 19 and went on to open Nepean Regional Security, a security company located in Penrith; 17 years later the company now employs 40 personnel and operates a fleet of cars across Sydney.
Described as one of the most powerful business people in Western Sydney by the Sunday Telegraph, she strongly advocates for females to feel comfortable to venture into areas of employment that are typically male-orientated.
Gina has been on the Board of the Penrith Valley Chamber of Commerce for 11 years, and was recently appointed as President.
In 2014, she received the Medal of Appreciation in the Australia Day awards and was presented with a certificate from the Prime Minister for her contribution to small business. Gina was recently highly commended in the 2015 UWS Women of the West Awards.
Ceremony 4, Saturday 11 April 2015 5:00pm: Paul Brennan AM, Chairman, Penrith Business Alliance
Paul Brennan has a passion for seeing businesses develop successfully. As Chairman of the Penrith Business Alliance since 2008, he extensively promotes and lobbies for the business and development interests of Penrith with State and Commonwealth Governments, and has been recognised for his leadership in the community.
In this capacity, Paul has also been responsible for leading three international trade delegations and the signing of three international trade agreements.
Paul is also Managing Director of the ASP Group of companies, located at St Marys in Western Sydney. This is a diverse group of companies in industries ranging from the custom moulding of engineering grade plastics, the manufacture of healthcare products, the manufacture and assembly of electronic components, and the manufacturing of tooling for the moulding of plastics and metals.
Paul currently holds directorships of eight Australian organisations as well as holding positions on several government and industry groups focused on planning, business and healthcare.
Ceremony 5, Monday 13 April 9:30am: Narelle Kennedy, Managing Director, The Kennedy Group
Narelle Kennedy operates her own research and consulting company, The Kennedy Company Pty Ltd.
She founded and led the pioneering, business-backed research think tank, the Australian Business Foundation, as CEO for over 15 years.
Narelle is a recognised thought leader and commentator on economic development and social issues, particularly on innovation, manufacturing, entrepreneurship and regions.
Narelle is a pioneer of research into the realities of business innovation, particularly its human dimensions, with her work providing the evidence to allow all organisations to innovate.
Narelle has represented Australia at the Business Advisory Committee to the Organisation for Economic Co-operation and Development, and has served on the expert panel for the Review of Australia's Innovation System in 2008.
Narelle was made a Member of the Order of Australia (AM) in the 2014 Australia Day Honours awards for significant service to business in Australia through a range of policy development and advisory roles.
Ceremony 6, Monday 13 April 12:00noon: Detective Superintendent Deborah Wallace, Commander, Gangs Squad, New South Wales Police Force
Born and raised in Greater Western Sydney, Deborah Wallace joined the NSW Police Force in the early 1980s as a constable at Blacktown Local Area Command, and is now head of the Gangs Squad.
She has had a great deal of experience in reducing the impact of drug use on youth, and in cutting the supply of drugs on the street and reducing the harm criminal gangs cause to the community.
In 1996 Deborah received an Australia Day Achievement Award for strategies dealing with drug harm to youth in the Cabramatta area. In 2002 she was the winner of the Australian Crime and Prevention Award for developing and implementing the Cabramatta High School Police and School Links program, which was established to address the issue of gangs and gang violence.
Deborah has been closely involved in Father Chris Riley's 'Youth Off the Streets' program and St Jude's Refuge for homeless men in Bankstown. In 2011 she was awarded the Australian Police Medal for distinguished service to the NSW Police Force.
Ceremony 7, Monday 13 April 2:30pm: Dr Genevieve Nelson, Chief Executive Officer, The Kokoda Track Foundation
Genevieve Nelson is one of the founding directors of the Kokoda Track Foundation and has been the Chief Executive Officer since January 2009. Kokoda Track Foundation is an international aid organisation that works in education, health, livelihoods and leadership in Papua New Guinea.
It operates across 45 communities in the Oro and Central Provinces. Genevieve has walked the Kokoda Track 19 times and spends at least two months of every year in the remote communities implementing and monitoring the Foundation's aid programs.
She has published extensively and presented at national and international conferences about her experience in Papua New Guinea.
She holds a doctorate in cross-cultural and educational psychology from the University of Western Sydney, and also has a Bachelor of Psychology (Honours).
Genevieve was a finalist in the 2013 Young Australian of the Year Awards, the 2012 Telstra Business Women's Awards, and was one of The Australian Financial Review and Westpac Group's '100 Women of Influence' in 2013.
Ceremony 8, Monday 13 April 2015 5:00pm: Lucinda Brogden, Mental Health Commissioner, National Mental Health Commission
Lucy Brogden brings extensive experience in psychology to the commission and has a strong commitment to helping others and building stronger communities. Lucy's primary areas of focus are issues facing mental health and wellbeing, particularly in the workplace and the community.
She takes an evidence-based approach to problem solving and social investment. Lucy has more than 25 years' commercial experience with companies including Macquarie Group and Ernst & Young and more than 10 years in organisational psychology. Specifically, Lucy has worked in trusted advisory roles with some of Australia's leading CEOs, managing partners, ministers and chairs across the investment banking, finance, legal and government sectors.
Ceremony 9, Tuesday 14 April 2015 9:30am: Debra Bordignon, Chief Technology Officer, Dimension Data
Debra Bordignon is responsible for setting and implementing regional strategy to improve and grow the Dimension Data's Australian business. Combining industry expertise and recognised thought leadership, Debra monitors global technologies and assesses their potential to become new products and services for Dimension Data's Australian clients.
Prior to joining Dimension Data, Debra was Chief Technologist and Innovation Leader for Hewlett-Packard's Enterprise Services, Asia-Pacific.
Debra has more than 25 years of experience in information and communications technology, across government, defence, healthcare and financial service industries.
She has held account, strategy, service line and business leadership roles with global vendors, integrators and consulting organisations.
A member of multiple IT industry forums, she is a sought after presenter for industry events, and regularly facilitates forums, mentors other technologists and provides new solutions design advice.
Ceremony 10, Tuesday 14 April 2015 2015 12:00noon: Dr Kerry Schott, business leader
The University is pleased to be awarding Kerry Schott the title of Honorary Doctorate of Letters, honoris causa, as part of this ceremony.
Kerry Schott's distinguished career includes service in public administration, education, banking, business and the community.
Kerry holds many qualifications, including a doctorate from Oxford University (Nuffield College). Kerry has held a number of significant government appointments, including CEO of the Commission of Audit for the NSW Government and Managing Director and CEO of Sydney Water.
In the private sector, Kerry spent 15 years as an investment banker, including as Managing Director of Deutsche Bank and Executive Vice-President of Bankers Trust Australia. During this time she specialised in privatisation, restructuring, and infrastructure provision. Among the many chair and directorship roles that Kerry currently holds, she is also a much-valued Board member of the Whitlam Institute within the University of Western Sydney.
Ceremony 11, Tuesday 14 April 2015 2:30pm: Dr Elizabeth Ricketts, Principal, St Aidan's Primary School
Elizabeth Rickettshas been in the field of education for 43 years and for 34 of these years she has been a school principal.
Elizabeth was recently nominated for the 2015 UWS Women of the West Awards. Last year, under Elizabeth's leadership, St Aidan's exceeded the national average in every aspect of literacy and numeracy in NAPLAN.
This was a great cause for celebration and testament to the incredible efforts by the school's teachers and their commitment to learning and teaching.
Elizabeth genuinely cares for the welfare of each child and enriches their lives by organising and financing school trips to cultural events such as the theatre or symphony orchestra.
Her contemporary teaching style ensures that all students have access to the latest technologies. Elizabeth has introduced a robotics program for students in upper primary grades, as well as a school radio station that is programmed entirely by students and is used
as extension in English.
Ceremony 12, Tuesday 14 April 5:00pm: Professor Michael Adams, Dean, School of Law, University of Western Sydney
Michael Adams specialises in corporate law and governance. He is an expert in financial services regulation – particularly securities markets and insider trading – and the broader legal education and technology.
He teaches, writes and presents regularly on these topics. Michael is a major media commentator, and regularly appears on TV and radio as well as newspapers and online forums.
He has published 10 books, more than 50 articles and has presented at over 150 conferences. He has degrees in accounting/economics and law, and is a Fellow of the Australian College of Educators, the Governance Institute of Australia, and the Australian Academy of Law.
In 2000 Professor Adams received the Australian University Teacher of the Year in Law and Legal Studies, and in 2005 he received the Institute of Chartered Secretaries and Administrators' (ICSA) President's Award and Life membership.
Ceremony 13, Wednesday 15 April 9:30am: Ben Quilty, artist
Ben Quilty is an Australian artist who has won the inaugural Prudential Eye Award for Contemporary Art in Singapore in 2014, the 2011 Archibald Prize, and the 2009 Doug Moran National Portrait Prize.
He studied visual communication and design at the University of Western Sydney, graduating in 2002 with a Bachelor of Arts (Design).
Ben's work is held in numerous institutional collections including the Museum of Contemporary Art Sydney, the Art Gallery of South Australia, and the Art Gallery of NSW. For three weeks in 2011 he was attached to the Australian Defence Force observing their activities in Afghanistan.
Upon return, he spent six months producing work for the Australian War Memorial's National Collection, continuing the long tradition of Australian official war artists. From January 2013, Ben commenced a three-year term as a member of the Board of Trustees of the Art Gallery of NSW.
Ceremony 14, Wednesday 15 April 12:00noon: Peter FitzSimons AM, columnist and author
The University is pleased to be awarding Peter FitzSimons AM the title of Honorary Doctorate of Letters, honoris causa, as part of this ceremony.
Peter is a well-respected columnist, author and former Australian rugby union player. He joined the Sydney Morning Herald full-time in 1989 and has been one of their most popular columnists since.
Peter is Australia's biggest-selling non-fiction author for the last 10 years. He is the biographer not only of World Cup winning Wallaby captains, Nick Farr-Jones and John Eales, but also former Opposition Leader Kim Beazley, boxer Les Darcy, aviator Sir Charles Kingsford Smith, war heroine Nancy Wake, and Antarctic explorer Sir Douglas Mawson.
In 2001 he was Australia's biggest selling non-fiction author, and duplicated that feat in 2004, with his book on Kokoda.
Ceremony 15, Wednesday 15 April 2015 2:30pm: Jane Caro, writer, novelist, broadcaster
Jane Caro is an author, novelist, journalist, broadcaster, columnist, advertising writer and social commentator. She spent 30 years as an advertising writer and her creative work has won many national and international awards.
She is in high demand as a speaker and conference facilitator. Her second novel Just a Queen, the sequel to her first Just a Girl, will be published in April 2015. She is currently working on a memoir for Pan MacMillan called Plain Speaking Jane. It will be her eighth book. She writes regular columns for Mt magazine, Mamamia and Sunday Life.
In 2013 she created, wrote and presented a six-part radio series for the ABC's Life Matters program called For Better, For Worse. In 2015 this series will be recreated as a four-part TV special on ABC's Compass. Jane appears regularly in the media including Sunrise, Weekend Sunrise, The Gruen Transfer and Gruen Planet, Q&A, The Drum and The Project.
Ceremony 16, Wednesday 15 2015 5:00pm: Paul Whittaker, Editor, The Daily Telegraph
Paul Whittaker has been Editor of The Daily Telegraph, Sydney's best-selling daily newspaper, since April 2011. A three-time Walkley Award winner, Paul has been with News since 1987, beginning his career as a cadet journalist with Queensland's Gold Coast Bulletin.
Paul won the 2014 Walkley Award for Excellence in Journalism in the 'All Media Headline Journalism' category for his work, 'Cardinal spin', 'The Grapes of Bof' and 'Palmersnorus'. His previous two Walkleys were for investigative reporting.
At the 2014 News Awards, The Daily Telegraph's ground-breaking Fair Go for the West campaign won the prestigious Campaign of the Year award.
The campaign, led by Paul, highlighted serious economic inequities in areas such as health funding and infrastructure between the two million plus residents of Western Sydney and other parts of the city. It led to the NSW Government announcing a series of major initiatives for the West and the establishment of a Greater Sydney Commission to oversee all major planning decisions for the city as a whole.
Ceremony 17, Thursday 16 April 2015 9:30am: Greg Warren MP, State Member for Campbelltown
Greg Warren as recently elected as the State Member for Campbelltown. He was popularly elected to Camden Council at the 2008 local government election and re-elected again in 2011.
He has also served as Mayor of Camden. Greg is passionate about the cause of the Campbelltown region during its ever changing and expanding growth.
He thoroughly enjoys working with and serving the local region and enjoys good relations with the sporting community including the East Campbelltown Eagles Rugby League, Cobbitty/Narellan Cricket club, local Netball clubs and many others.
Greg has a Diploma in Business and has recently completed his Master of Business Administration. He is a director of the Campbelltown Chamber of Commerce, an Honorary Member of the East Campbelltown Eagles Junior Rugby League Football Club and is involved in many other local community groups.
Ceremony 18, Thursday 16 April 2015 12:00noon: Scott Seward, Chief Executive Officer, Parramatta Eels
In September 2013 Scott Seward was appointed Chief Executive Officer of the Parramatta Eels.
Together with Eels Chairman Steve Sharp, he has restored the Parramatta Eels back to its place as the leading sporting brand in Western Sydney, and one of the biggest in Australian sport. Scott joined the Eels in 2012 as General Manager, Membership and Consumer Business where he achieved record membership of 17,205 in 2013 – an increase of 49.5 per cent in one year, despite the Eels finishing last for the second year in a row.
Scott has over 16 years' experience working across Australia's two biggest sporting codes in Rugby League and Australian Rules Football.
He spent over seven years at the Canterbury Bulldogs as Merchandise Manager before joining the Western Bulldogs as General Manager, Consumer Operations and Development. Scott is committed to taking the Eels back to the top of Australian sport both on and off the field.
Ceremony 19, Thursday 16 April 2:30pm: Professor Stephen Leeder, Chair, Western Sydney Local Health District Board
Stephen Leeder is chair of the Western Sydney Local Health District Board and is also Director of the Research and Education Network for the Local Health District.
He has a long history in public health research, educational development and policy. His key interests as a clinical epidemiologist have been asthma and cardiovascular disease. He has worked in the highlands of Papua New Guinea, and at Columbia University in New York, including the university's Earth Institute and Mailman School of Public Health.
Stephen's distinguished career in Western Sydney began in 1986. He headed the Department of Community Medicine at Westmead Hospital for more than 10 years, steering it in disease prevention, health service research, health economics and health promotion. He is a passionate advocate for integrating care in the community with hospital services and has advised Federal and State governments.
Stephen is editor-in-chief of the peer-reviewed Medical Journal of Australia, the official journal of the Australian Medical Association.
Ceremony 20, Thursday 16 April 5:00pm: Sue-Anne Redmond, General Manager, Blacktown and Mount Druitt Health
Sue-Anne has a wealth of experience in the public and private sectors, successfully managing the delivery of healthcare throughout New South Wales, in operational management and capital development projects.
Sue-Anne is a registered nurse who specialises in palliative care and oncology.
Among her many achievements, Sue-Anne has established effective partnership models with clinicians, management and local councils to address issues concerning the delivery of health services in consultation with the community in both metropolitan and regional areas.
She has played a strategic partnership role in the clinical service planning and commissioning of regional capital works programs, and has developed and implemented clinical governance and patient safety systems in partnership with clinicians to enhance care.
Sue-Anne says that no matter where she finds herself her goal is to do what she can to create an environment where clinical excellence flourishes and people are proud to work.
Ceremony 21, Friday 17 April 9:30am: Professor Hannah Dahlen, Professor of Midwifery, School of Nursing and Midwifery, University of Western Sydney
Hannah Dahlen has been a practising midwife for 25 years.
She has contributed significantly to the development of maternity services both within Australia and internationally, and is one of the first midwives in Australia to gain eligibility and access to a Medicare provider number and the Pharmaceutical Benefits Scheme (PBS) following government reforms in 2010.
An active researcher, Hannah has strong national and international research partnerships, has had over 100 journal and book publications, and has spoken at national and international conferences.
The national spokesperson for the Australian College of Midwives, Hannah has been interviewed by media over 1,000 times and has featured in three documentaries. She is also a past President of the Australian College of Midwives, receiving Life Membership in 2008 for outstanding contributions to the midwifery profession.
Ceremony 22, Friday 17 April 2015 12:00noon: Adjunct Associate Professor Anna Thornton, Director, Nursing and Midwifery, Sydney South West Local Health District
Anna Thornton has been the Director of Nursing and Midwifery at Liverpool Hospital since August 2011. Anna has extensive experience working at an executive level across a number of hospitals and healthcare facilities, which is complemented by her Master of Nursing degree.
Her leadership roles include Director of Nursing and Midwifery and General Manager at The Canberra Hospital, Director of Nursing at Prince of Wales Hospital and Sacred Heart Hospice, and senior nursing roles at the Royal Hospital for Women, and Mt Druitt and St George Hospitals.
Anna spent the formative years of her clinical career caring for women with gynaecological cancers before moving into senior management roles.
Anna is a very proud nurse, and has a passion for developing staff and creating contemporary healthcare environments that are patient centred and highly satisfying for nurses and midwives.
Latest News
A record number of female Aboriginal and/or Torres Strait Islander athletes represented Australia at the 2022 Birmingham Commonwealth Games.
Nikhil Autar believes 'you don't need to be a doctor to make a difference. Just as long as you can make a positive impact in this world for someone else'. A medical student at the University, Nikhil is this year's recipient of the Chancellor's Unsung Heroes Award.
This week, one Sydney high school made headlines for banning mobile phones during school hours. Phones can come to school but must stay in locked pouches.
<!-noindex->