Business leader Kerry Schott receives Honorary Doctorate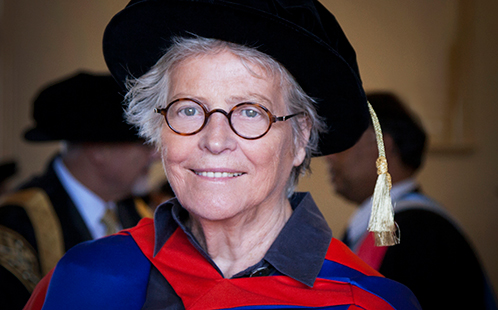 Graduation Citation
Dr Kerry Schott's distinguished career includes service in public administration, education, banking, business and the community. Dr Schott holds a doctorate from Oxford University (Nuffield College), a Master of Arts from the University of British Columbia, Vancouver and a Bachelor of Arts (first class Honours) from the University of New England.
Currently, Dr Schott is Chair of the Moorebank Intermodal Company Ltd, a Director of NBN Co, a Director of the NSW Treasury Corporation (TCorp), a member of the Infrastructure Australia Board, Patron and Board member of Infrastructure Partnerships Australia, and a Board member of the Whitlam Institute within the University of Western Sydney.
Dr Schott has held a number of significant government appointments. She is the Project Director for the NSW Treasury managing the current sales of the government owned electricity generating plants, following a similar role on the successful sale and lease of the Sydney desalination plant. In 2014, the NSW Premier appointed Dr Schott as chair of a panel to examine whether full public funding should be introduced for NSW election campaigns following revelations about illegal donations aired at the Independent Commission Against Corruption. In early 2012, Dr Schott completed her role as CEO of the Commission of Audit for the NSW Government. Previously she was Managing Director and CEO of Sydney Water from 2006 to 2011.
In the private sector, Dr Schott spent 15 years as an investment banker, including as Managing Director of Deutsche Bank and Executive Vice-President of Bankers Trust Australia. During this time she specialised in privatisation, restructuring, and infrastructure provision.
Dr Schott's early career included roles with the Reserve Bank of Australia and the Department of Prime Minister and Cabinet. She has taught at the University College London, Oxford University and has been a visiting Professor at Princeton University.
Dr Schott has been Chair of the Water Services Association of Australia, NSW Environment Protection Authority, and the NSW Film and Television Office. She has also been a director of the Film Finance Corporation Limited and Australian Airlines Limited, and was a member of the Corporations and Securities Panel and a Trade Practices Commissioner.
The University is particularly grateful to Dr Schott for her support and commitment to the University of Western Sydney through her role as a Board member of the Whitlam Institute since September 2009.
The Board of Trustees of the University of Western Sydney has resolved to confer the title of Doctor of Letters honoris causa on Dr Kerry Schott for her distinguished service to public administration, business and the community.
Ends
14 April 2015
Latest News
A record number of female Aboriginal and/or Torres Strait Islander athletes represented Australia at the 2022 Birmingham Commonwealth Games.
Nikhil Autar believes 'you don't need to be a doctor to make a difference. Just as long as you can make a positive impact in this world for someone else'. A medical student at the University, Nikhil is this year's recipient of the Chancellor's Unsung Heroes Award.
This week, one Sydney high school made headlines for banning mobile phones during school hours. Phones can come to school but must stay in locked pouches.
<!-noindex->