Research makes a 'Truce' to improve the mental health of young people dealing with cancer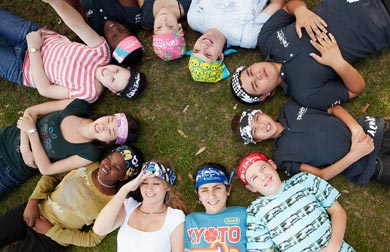 Being a teenager is hard at the best of times. So, when a parent or caregiver has cancer it can affect that young person in many ways and make coping difficult.
The University of Western Sydney in partnership with CanTeen Australia, the University of Sydney and the University of New South Wales, recently commenced a research project called 'Truce'.
The program is a new, eight-week group psychological intervention for young people aged 14 – 22 who have a parent, still living, who has been diagnosed with cancer in the last 5 years.
Dr Danielle Tracey, from the School of Education at UWS, is a lead researcher on this study and says young people experience high levels of distress and unmet needs when a parent has cancer.
"The 'Truce' program seeks to address the associated high levels of stress for this often forgotten group of people," says Dr Tracey.
"The research will evaluate the effectiveness of the program in improving mental health and family functioning."
Professor Joseph Ciarrochi, from the School of Social Sciences and Psychology at UWS, is also a lead researcher on the project.
The program is based on an approach called 'Acceptance and Commitment Therapy' (ACT), and will involve material aimed at educating young people on how to deal with difficult thoughts and feelings, enhance personal communication skills – especially within the family – and improve how a young person feels about their situation.
Sessions will be held in Western Sydney and Sydney CBD over eight evening sessions commencing in August.
Parent/s will be required to attend one session and young people under the age of 18 will need to get consent from a guardian in order to participate.
To get involved, visit the 'Truce' website or contact Esther Davis on 1800 243 007 or email truce@canteen.org.au.
The project is funded by a Rotary Mental Health Research Grant.
This study has received ethical approval from the University of Western Sydney Human Ethics Research Committee. The approval number is H9527.
Ends
5 July 2012