Female scientists named superstars of STEM by federal government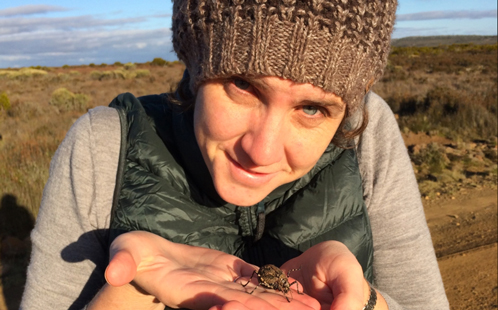 Superstar of STEM Dr Kate Umbers
The Federal Government has named Dr Kate Umbers and Dr Siobhan Schabrun from Western Sydney University as Superstars of STEM (opens in a new window), elevating them to the national stage in a program forging a new generation of role models for young women and girls.
30 women in total will take part in the program, and will receive training and development to use social media, TV, radio and public speaking opportunities to carve out a more diverse face for science, technology, engineering and mathematics.
Superstar of STEM Dr Siobhan Schabrun
Science & Technology Australia President-Elect, Professor Emma Johnston, said studies in the USA and other countries similar to Australia had shown female STEM professionals were significantly under-represented.
"Superstars of STEM is the first program of its kind and will prove vital for the future of STEM in Australia," Professor Johnston said.
"We want Australian girls to realise that there are some amazing, capable and impressive women working as scientists and technologists too, and that they work in and out of the lab in places you might not expect."
Dr Kate Umbers from the School of Science and Health was chosen for her research showcasing the charismatic fauna of Australia's high-country, both in conservation projects and by communicating the inspiring natural history stories of the animals that live there.
"I'm passionate about the natural history of animals, and I'm eager to use this opportunity to help people know that animal stories don't start and end on television, as everyone can go outside and explore the real-life mysteries in Australia," she says.
"Like any creative industry, the future of STEM relies on having a diverse range of viewpoints and experiences among practitioners, which is why it's so important for women to engage with science and technology."
Dr Siobhan Schabrun, also from the School of Science and Health, is an NHMRC Career Development Fellow, and leads the university's Brain Rehabilitation and Neuroplasticity unit.
She says she's excited to be a role model for women and girls considering a career in science.
"I hope to challenge societies perceptions of who a scientist is and what they do and ultimately, encourage more girls to dream of being scientists," says Dr Schabrun.
"A career in science is an exciting, inspiring and challenging job where you can make real world impact."
Ends
4 July 2017
Latest News
A range of Western Sydney University experts have come together to share their views on water sustainability and what it will take to ensure that the 2.1 billion people living on the planet have access to safe drinking water.
Research led by The University of Notre Dame Australia, NICM and Western Sydney University, shows antenatal education not only reduces the rates of medical interventions during childbirth, but can save the healthcare system up to $97 million per year.
In 2012, I was interviewing a young man, Hamid*, as part of my research on the creative vocational aspirations of Lebanese-Australian young men.