Spring Graduation 2014 - Guest Speakers
For twenty-five years, the University of Western Sydney has been privileged to have many inspirational Australians from across business, government and the wider community deliver the graduation Occasional Address.
The Occasional Address given by our guest speakers is an opportunity for graduates, their families and friends to hear the speaker's personal and professional insights gained from years of business leadership, personal achievement and significant contributions to society. For many of our graduates, the Address is often one of the lasting memories they carry with them of their special day.
The University of Western Sydney is pleased to announce the following guest speakers will be delivering the Occasional Address during September 2014 Graduations.
The Honourable Dr Kim Yeadon, Tuesday 23 September 9:30am
The University is pleased to be awarding The Honourable Dr Kim Yeadon an Honorary Doctorate of Letters as part of this ceremony. Dr Kim Yeadon is a former Member of the NSW Legislative Assembly, holding office from June 1990 to March 2007 as the Labor Member for Granville. Dr Yeadon later served as Minister across a range of portfolios including Land and Water Conservation, Ports, Information Technology, Forestry, Western Sydney, and Energy. Dr Yeadon also served as a member on numerous parliamentary committees. In May 2003, Dr Yeadon was appointed to the UWS Board of Trustees, with his third term finishing at the end of 2013. During his distinguished service to the University of more than ten years, Dr Yeadon has held numerous roles and made a significant contribution to the University's development. Dr Yeadon was elected Deputy Chancellor in 2008 and also became a member of the Board Standing Committee as well as the Remuneration and Nominations Committee. From 2008 to 2013, Dr Yeadon was Chair of the Campus Development Committee and was a key member of the Strategy and Planning Committee.
Katharine Duffy, Director, Nursing and Midwifery Services, Sydney Local Health District, Tuesday 23 September 12:00 noon
Ms Duffy has had an extensive and distinguished career as a registered nurse, undertaking her training at Concord Repatriation General Hospital. Ms Duffy has a postgraduate qualification in nephrology, specialising in transplant nursing, and also has a Masters degree in health administration. In 2011, Ms Duffy became Director of Nursing and Midwifery Services for the Sydney Local Health District and was awarded the title of Adjunct Professor, Sydney Nursing School, with the University of Sydney. Seconded to the NSW Ministry of Health in 2013 for a period of 12 months, Ms Duffy held the role of Program Director, Whole of Hospital – a program designed to support Local Health Districts in driving the strategic change needed to improve access to care and patient flow in NSW. Early this year Ms Duffy returned to her substantive position as Director of Nursing and Midwifery with the Royal Prince Alfred Hospital. Ms Duffy has a passion for the public health sector, especially patient and family-centred care, and investing in and caring for our nursing workforce.
Professor Mark Compton AM, Chief Executive Officer, St Luke's Care, Tuesday 23 September 2:30pm
In addition to his role of Chief Executive Officer of St Luke's Care, Professor Compton is Chairman and Chancellor of the Order of St John, at St John Ambulance Australia, and Non-Executive Director on the Board of the Macquarie University Hospital. Professor Compton's previous positions include Chief Executive Officer of Immune Systems Therapeutics, National Chief Executive Officer of the Royal Flying Doctor Service of Australia, Chief Executive Officer of SciGen Limited, and Managing Director of Alpha Healthcare Limited. Professor Compton has held a number of non-executive director roles, including Chairman of the Woolcock Institute of Medical Research, Australia's leading medical research institute in respiratory and sleep disorders. In recognition of his work in the healthcare sector and his service to the community, Professor Compton has received the Centenary Medal of the Commonwealth of Australia, has been appointed a Knight in the Order of St John, and became a Member of the Order of Australia in 2010.
Anne Hollonds, policy and strategy consultant and former CEO Benevolent Society, Tuesday 23 September 2:30pm
The Benevolent Society is Australia's first and longest-running not-for-profit organisation, helping people change their lives through support and education. The Benevolent Society proudly celebrated its 200th anniversary last year. Ms Hollonds stepped down from her role as Chief Executive Officer very recently and will stay on in a consultancy role. Ms Hollonds has 17 years' experience as Chief Executive Officer in the not-for-profit sector, including the role of Chief Executive Officer of Relationships Australia NSW. As a child and family psychologist, Ms Hollonds has a particular interest in linking research to policy and practice in order to promote wellbeing through prevention, early intervention and system change. Ms Hollonds is currently on the Board of the International Commission for Couple and Family Relations and is Co-Chair of the NSW Domestic and Family Violence Council. She has extensive experience in community-based child, youth and family services, including child protection, family counselling and mediation, domestic violence, and mental health.
Dr Glen Sanford, Wednesday 24 September 9:30am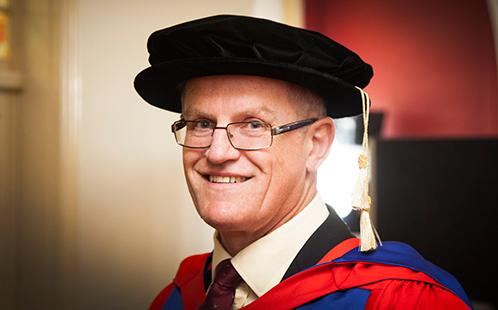 The University is pleased to be awarding Dr Glen Sanford an Honorary Doctorate of Letters as part of this ceremony. Until his recent retirement, Dr Glen Sanford was an Audit Partner at Deloitte Touche Tohmatsu. Dr Sanford's extraordinary contribution to the University began in 1997 when he was appointed Chair of the Audit and Risk Management Committee, holding the position until 2010. Dr Sanford was then appointed Chair of the new Finance and Investment Committee from 2011 to 2013. At the same time, Dr Sanford also became a member of the Strategy and Planning Committee. Dr Sanford also served as a member of the UWS Board of Trustees, appointed to the Board Standing Committee and Remuneration and Nominations Committee from 2007. Dr Sanford was elected Deputy Chancellor from 2010. Dr Sanford was recently appointed an Adjunct Professor in the UWS School of Business and a member of the External Advisory Committee for the School's undergraduate programs.
Dr Michele Bruniges AM, Secretary, New South Wales Department of Education and Communities, Wednesday 24 September 12:00 noon
Dr Bruniges is one of the state's most senior public servants and is responsible for all NSW public schools, vocational education and training, early childhood education and care. The Department also manages policy and services relating to Aboriginal affairs, veterans' affairs, volunteering, youth and community engagement. Previously, Dr Bruniges held senior positions in the (former) Australian Government's Department of Education, Employment and Workplace Relations (DEEWR). In 2012, Dr Bruniges became a Member of the Order of Australia for her service to public administration through executive roles, and her contribution to reform in the education sector at state and national levels. Dr Bruniges is a Churchill Fellow, a Fellow of the Australian College of Educators and a Fellow of the Australian Council for Educational Leaders who, in 2011, awarded her the Council's Presidential Citation for her high level leadership of public education. Dr Bruniges was nationally recognised as a joint recipient of the 2012 '100 Women of Influence' Awards in the area of public policy.
Emeritus Professor Edmund Fung, School of Humanities and Communication Arts, University of Western Sydney, Wednesday 24 September 2:30pm
The University is pleased to confer the title of Emeritus Professor on Edmund Fung as part of this ceremony. Professor Fung joined the University of Western Sydney in 1994, founding the Department of Asian Studies in the Faculty of Arts, and holding the roles of Chair in Asian Studies and Head of Department Asian Studies. Professor Fung has provided exemplary leadership within Asian and historical studies at the University, and was instrumental in developing the International Relations and Asian Studies major within the Bachelor of Arts. Professor Fung has written numerous books and conducted extensive research during a long academic career that has seen him become an internationally-renowned historian of modern China and a scholar of considerable standing in the field of modern Chinese history, a status confirmed by his election in 2011 as a Fellow of the Australian Academy of the Humanities. Professor Fung has also been a key figure in the development of the field in Australia, where he co-founded the Chinese Studies Association of Australia.
The Honourable Dr Helen Sham-Ho OAM, Wednesday 24 September 5:00pm
The Honourable Dr Helen Sham-Ho OAM The University is pleased to be awarding The Honourable Dr Helen Sham-Ho OAM an Honorary Doctorate of Letters as part of this ceremony. Dr Sham-Ho was the first Chinese-born parliamentarian in Australia when she was elected to the NSW Legislative Council in 1988. She represented her constituency first as a Liberal Member of the Legislative Council and then as an Independent, before retiring from politics before the 2003 election. Prior to her election to Parliament, Dr Sham-Ho served as a Commissioner on the NSW Ethnic Affairs Commission. Dr Sham-Ho is an avid supporter of higher education and has participated in a variety of University boards including becoming a member of the UWS Board of Governors between 1990 and 1991. Dr Sham-Ho continues to have a strong relationship with UWS. In 2012, Dr Sham-Ho was awarded the Medal of the Order of Australia (OAM) in recognition of her outstanding achievements and service to the Parliament of New South Wales, the Chinese community, and as a supporter of a range of charitable organisations and educational institutions.
Chris Cuffe, Chairman, Australian Philanthropic Services, Thursday 25 September 9:30am
Professor Peter Shergold and Chris Cuffe
Mr Cuffe has more than 25 years' experience building successful wealth management practices. Joining Colonial First State in 1988 and becoming Chief Executive Officer two years later, he took the company from a start-up operation to Australia's largest investment manager. Mr Cuffe joined Challenger Financial Services Group Limited in early 2003 in the capacity of Chief Executive Officer and subsequently became Chief Executive of Challenger's Wealth Management business. In 2006, Mr Cuffe joined non-profit organisation Social Ventures Australia (SVA) as Executive Director, a position he held until May 2009, when he became Chairman of the Social Ventures Australia Future Trust. Mr Cuffe is involved in a portfolio of activities including a number of directorships, managing public and private investments and in various roles assisting the non-profit sector. In 2007, he was inducted into the Australian Fund Manager's RBS Hall of Fame for services to the investment industry.
Karen Lawson, Chief Executive Officer, CareerOne, Thursday 25 September 12:00 noon
Ms Lawson is a senior executive and leader in the digital industry. Ms Lawson has held senior positions with global companies as well as joint ventures. Ms Lawson has extensive experience leading teams through change, and motivating and developing cross-functional teams to peak performance. Ms Lawson is extremely passionate about delivering great results and helping others achieve their true potential. In early 2013, Ms Lawson was appointed Chief Executive Officer of CareerOne, a joint venture between News Limited and Monster Worldwide. This followed her role as General Manager – Business Development at Yahoo!7 where she held full commercial and operational responsibilities for data, advertising, publishing, technology, search mobile and strategic partnerships. Ms Lawson has also been a food and luxury travel journalist for over eight years, writing for a diverse range of publishers, and is an experienced media commentator and guest speaker, with appearances on TV, radio, in print and digital, as well as industry forums.
Elizabeth Dibbs, Non-Executive Director and UWS Board of Trustees member, Thursday 25 September 2:30pm
Ms Dibbs is a non-executive director in the not-for-profit and community sectors, and joined the UWS Board of Trustees in February this year. Ms Dibbs is also a director of United Way Australia, a Council Member of Chief Executive Women and Chair of its Scholarship Committee. Ms Dibbs was a Partner and General Counsel of PricewaterhouseCoopers, with responsibility for all legal and regulatory matters affecting the firm and oversight responsibility for the Asia-Pacific region. Prior to this, she worked with major law firms Mallesons Stephen Jaques in Sydney, and Linklaters & Paines in London. Ms Dibbs holds a combined Bachelor of Arts and Bachelor of Laws from the University of Sydney, where she was awarded the University Medal, and she also holds a Master of Laws (Honours 1) from Cambridge University.
Shane Fitzsimmons AFSM, Commissioner, New South Wales Rural Fire Service, Thursday 25 September 5:00pm
Commissioner Fitzsimmons has 30 years' experience with the New South Wales Rural Fire Service, serving as both a volunteer and salaried officer. In 1998, he was appointed an Assistant Commissioner and held portfolio responsibilities for operations, strategic development and regional management. He became Commissioner of the New South Wales Rural Fire Service in 2007, and a director of the National Aerial Firefighting Centre in 2008. Commissioner Fitzsimmons was Chair of the Centre Board from 2009 to 2013 and is also a member of the New South Wales State Rescue Board where he was appointed Chairman in 2008. Commissioner Fitzsimmons is also a director on the Bushfire Cooperative Research Centre, and was an appointed Board Member of the NSW Government Telecommunications Authority in 2012. Commissioner Fitzsimmons was awarded the National Medal in 1999 and the Australian Fire Service Medal (AFSM) in 2001.
Ends
22 September 2014
Photos: Sally Tsoutas
Latest News
Over the past week, we've seen a spike in the number of COVID-19 infections among health-care workers in Victoria.
The pandemic is prompting some Australian pregnant women to give birth at home without a midwife or registered health provider, according to a survey out this week.
A Western mental health expert has shed light on the ongoing, traumatic effects of COVID-19 for people living with eating disorders.
<!-noindex->