MARCS Home
WE HAVE MOVED FROM MILPERRA!
WESTMEAD INNOVATION QUARTER

BUILDING U
160 HAWKESBURY ROAD
WESTMEAD NSW 2145
PH: +61 2 9772 6585
Image credit: Arthur Vay
MASTER OF NEUROMORPHIC ENGINEERING
A world first program!
Neuromorphic Perception Solutions

The International Centre for Neuromorphic Systems (ICNS) is a world leader in the development of Neuromorphic Perception Solutions.

Inspired by biology, these ground-breaking solutions harness the power of the centre's pioneering research on neuromorphic sensors, algorithms and processing hardware, to solve problems currently impeding technological innovation.

The Neuromorphic Engineering approach is sustainable and reliable, using low-power and high-speed systems at the edge to provide a solution to the data deluge problem currently limiting existing technology.

Neuromorphic Perception Solutions incorporate smart sensors, AI and digital infrastructure design and development, targeting areas such as Space and Aviation, smart manufacturing, built environment, automotive, agriculture and medical technology.

ICNS is already working with multinational firms such as Intel and Microsoft on the real-world application of these solutions and is actively seeking commercial partners for further collaborations. Such partnerships will help create a globally unique economic hub in Western Sydney and boost Australia's regional economic sustainability and development.

JOIN US IN SHAPING THE FUTURE AND DELIVERING SOLUTIONS

We are seeking Expressions of Interest in how you wish to partner with us, so together we can fully realise the potential of these innovations and create globally significant commercial outcomes.
Westmead Health and Research Precinct .
Exemplifying international best-practice, the Innovation Quarter will bring Western Sydney University together with community, healthcare, industry and government partners.
This integrated, collaboratively-driven approach will help deliver outstanding health, economic and social outcomes. Together with our precinct partners, we will seek to reinvent traditional practices and make the latest innovations, technologies and treatments available to Western Sydney sooner.
To read more, please visit our Westmead Info document
For updates on the Westmead Development, please visit our Westmead updates page
To view all of the Institutes at the Westmead Innovation Quarter, please visit Our Westmead Innovation Quarter Institutes page
Summer Projects 2021-2022
Looking for research experience? Check out our summer projects 2021-22!
To view and apply for all of our Summer Projects:
Featured
Dr Paul Rymer is searching for genetic features that contribute to trees' adaptation to climate change, so that they can be taken into account for forest management...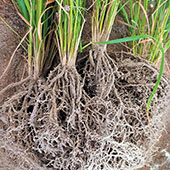 Prof Brajesh Singh is developing microbial engineering tools that could sustainably increase agricultural output to produce food for a rapidly increasing population....