MARCS Home
Westmead Health and Research Precinct .
Exemplifying international best-practice, the Innovation Quarter will bring Western Sydney University together with community, healthcare, industry and government partners.
This integrated, collaboratively-driven approach will help deliver outstanding health, economic and social outcomes. Together with our precinct partners, we will seek to reinvent traditional practices and make the latest innovations, technologies and treatments available to Western Sydney sooner.
To read more, please visit our Westmead Info document
For updates on the Westmead Development, please visit our Westmead updates page
Featured
Dr Paul Rymer is searching for genetic features that contribute to trees' adaptation to climate change, so that they can be taken into account for forest management...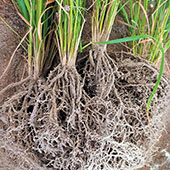 Prof Brajesh Singh is developing microbial engineering tools that could sustainably increase agricultural output to produce food for a rapidly increasing population....