MARCS Home
MARCS research keeping our skies safe.
Regardless of whether you are a single-pilot operation or fly for a large organisation, effective communication is a critical part of your flying operations. Misunderstandings and communication failures cost time and money, and at worst, compromise safety, as some of the case studies in this booklet show.
Clear communication can be the difference between safe flight and aircraft accidents. Dr Dominique Estival's research was a key contribution in developing and guiding the Australian Government's Civil Aviation Safety Authority's Safety behaviours: human factors for pilots resource kit. The kit provides pilots case studies and practical exercises, focussing on the elements needed to create and maintain a positive safety culture.
To read more, please visit The Civil Aviation Safety Authority website.
Featured
Dr Paul Rymer is searching for genetic features that contribute to trees' adaptation to climate change, so that they can be taken into account for forest management...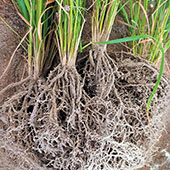 Prof Brajesh Singh is developing microbial engineering tools that could sustainably increase agricultural output to produce food for a rapidly increasing population....