Astrosite
Benefits of event based Neuromorphic space imaging
Right now, overhead there are more than 4850 satellites—some of them the size of a breadbox—in orbit around Earth. The world's dependence on space is growing.
Only about 40% of those satellites are active, so the potential for disruptions caused by dead satellites and debris in orbit that don't perform as expected has increased the need to track and monitor objects in space.
Western Sydney University has been tackling this problem with bio inspired (neuromorphic) engineering principles. Using unique event based sensors on mobile telescopes, they have demonstrated the ability to capture and track real time orbital objects day and night.
The sensor consists of an asynchronous array of detectors for light intensity changes. Each pixel operates independently with microsecond response times.
The conventional way to "see" and track objects in orbit has been to use CCD (Charge-coupled device) sensors that collect high resolution images, mostly of empty space. This results in the CCD sensor collecting a significant amount of data that needs to be transported and analysed, and ultimately most of it will be discarded. The CCD sensors are also subject to being overpowered and saturated by daylight, just as the camera on your phone cannot take pictures into the sun.
Event based neuromorphic sensor
In contrast, the Neuromorphic event based sensors present a much more efficient and low power alternative, as targets in orbit can now be detected and tracked regardless of background brightness. The sensors deliver a continuous stream of independent events which means we can start to make predictions and estimates about the trajectory and orbit of objects.
Although orbital space is getting crowded, space is also really big and when observing a small section of it, there is a great deal of time when nothing happens. When using the event based sensors, we don't report or do anything in such cases, so we can keep the data rate low and use little electrical power (which is important when these sensors are on their own satellites).
This approach and system is an Australian based innovation that is changing the way we look at the stars. Western Sydney University is leading the world and delivering a game changing capability to Australia.
If you would like to know more or want to be kept up to date search for #astrosite
Astrosite – Introduction to Space Situational Awareness and Event-Based Sensors
As our world becomes more reliant on satellites, the potential for collisions between space objects is increasing. As a result, there is a critical need for accurate detection and tracking of satellites.
Here at Western Sydney University, the International Centre for Neuromorphic Systems have developed a novel way to track space objects.
In celebration of Research Week, we invite you to join us for a video walk through of the Astrosite, a world first neuromorphic inspired mobile telescope observatory developed by our team, and hear from leading researchers in the field of space situational awareness using event based sensors.
Astrosite Printed Media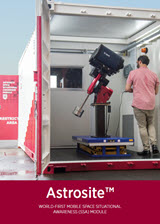 Download the Postcard (PDF, 364.48 KB) (opens in a new window)
Download the Brochure (PDF, 1209.8 KB) (opens in a new window)

<!-noindex->