Global Scope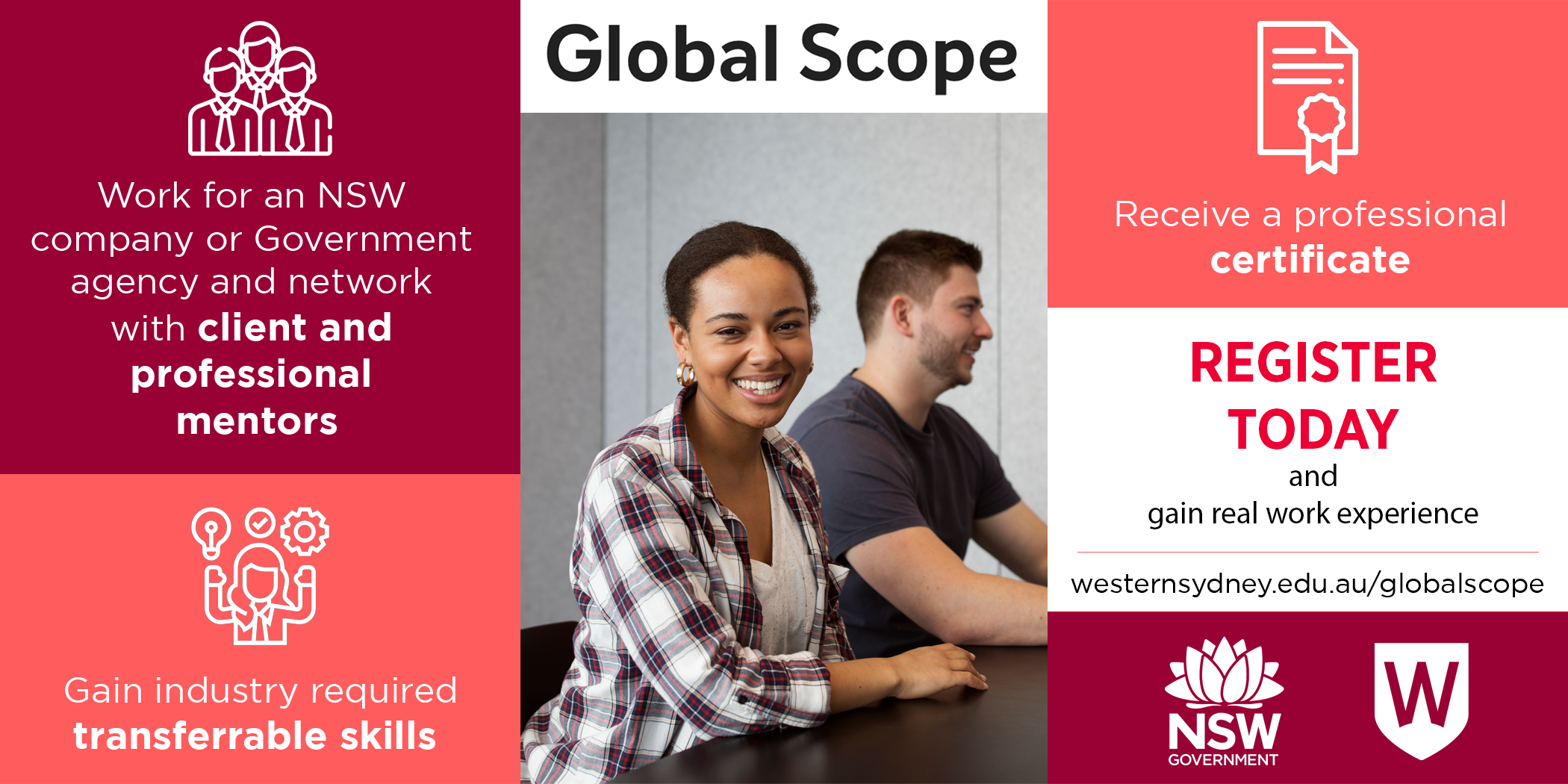 LOOKING FOR AN OPPORTUNITY TO EXPERIENCE THE AUSTRALIAN WORKPLACE BUT DON'T KNOW WHERE TO START?
This program gives you the chance to work on industry projects in a multi-disciplinary team and will include:
a 2-hour Training Centre where you will develop essential employability skills and learn to solve and present real business scenarios;
3 - 4 meetings with professionals (clients and industry mentors) and meetings with your team over a 3 week period.
You will invest approx. 10-12 hours per week depending on your team's energy.
You will enhance your business capabilities, build career skills and expand your professional network.
WHAT ARE THE BENEFITS OF PARTICIPATING IN GLOBAL SCOPE?
JULY 2022 PROGRAM DATES
Participants will need to be available throughout the program dates:
| | |
| --- | --- |
| Applications close | 11:59 pm, Thursday 4 August 2022 |
| Group Training Centre session | Tuesday, 23 August 2022 |
| Orientation | 10am - 11am, Thursday, 25 August 2022 |
| Program starts | Monday, 29 August 2022 |
| Program presentation | Friday, 16 September 2022 |
PAST STUDENT TESTIMONIALS
APPLY NOW
Get ready to be part of a unique opportunity to work on a business project.
WANT TO KNOW MORE?
Check out the latest WSU Global Scope Information Webinar where Sharon (Practera) and Catherine (WSU International) discuss the benefits of joining the Global Scope Program.
FREQUENTLY ASKED QUESTIONS
How does Global Scope work?
How does Global Scope work?
The Practera team (who run Global Scope) will assign a business problem to teams based on final numbers and participating organisations once students are accepted into the program.
Students will create working briefs, liaise with their team members, be guided by professionals and deliver process improvement options or external research options back to the clients.
Students will learn soft skills, teamwork, project management, working with industry professionals, increasing their professional networks, application of business skills and improving their overall employability.
What would I do on the program?
What would I do on the program?
As a student consultant, I will:
Need to be in Sydney during the program to meet with your team and professionals (project client and industry mentor) regularly.
Work with your assigned NSW Government Agency, NGO or private enterprise.
Interact with and develop networks with leaders, project clients, industry mentors and management consultants.
Work with in a diverse team to create an innovative business proposition.
Learn applied business skills in industry.
Develop real world professional skills.
This is an extracurricular program. To gain the official certification, you must complete:
The 50-hour commitment;
Meetings with professionals every week (On average, one hour meeting with project client and another one hour meeting with industry mentor every week);
The project deliverables: Project Plan, Project Findings Report (Draft), Project Findings Report (Final) and Final Presentation.
What is required of me?
What is required of me?
This program will combine some online learning with a two hour workshop, 3 - 4 meetings with professionals (clients and industry mentors).
You will attend a workshop at university and meetings hosted by mentor and project client organisation. On-site residency at partner agency/organisation is not required although some meetings on-site may take place.
Some learning, delivery and project management will be undertaken online. Mentoring of students by clients and mentors will be via a mix of remote and face-to-face as necessary. Team collaboration will be required throughout.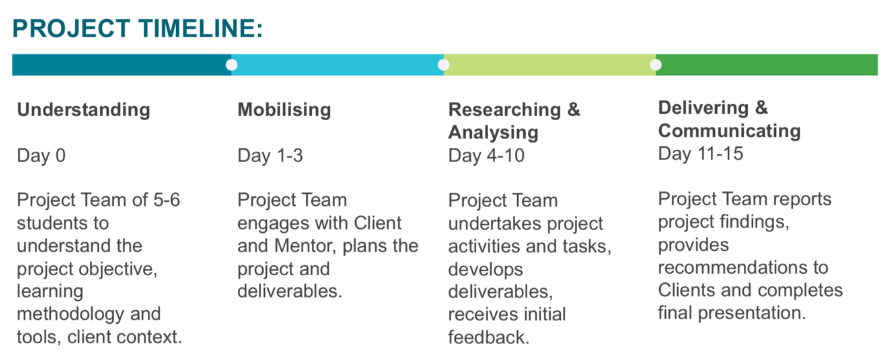 How will Global Scope help me?
How will Global Scope help me?
The program aims to help improve your:
Employability skills;
Social connections;
Real business experience
DO YOU HAVE A QUESTION?
Get in touch with us!
Iman Abou-Mahmoud
Careers Education Consultant
iman.abou-mahmoud@westernsydney.edu.au